Lafourche Parish Sheriff Craig Webre announced a Larose man has been charged for the burglary and arson of a boat in the South Lafourche area last month. Richard Willyard, 37, was arrested on September 5, 2019.
On the night of August 20, 2019, a fire was reported at a boat repair business in Larose. A boat on a dry dock at the business had caught fire. Firefighters from Lafourche Parish Fire District 3 responded and extinguished the fire, but the boat sustained significant damage. The Louisiana State Fire Marshal's Office also responded to investigate into the early morning hours of the following day. It was determined the fire was likely started by arson.
During the investigation, deputies learned the boat had been burglarized after learning that several items were found to be missing from the boat. Nearby surveillance cameras captured images of a man riding a bicycle who appeared to enter the boat and take several items around the time the fire started. From the video and further investigation, detectives developed Richard Willyard as a suspect in the crime.
On Thursday, September 5, LPSO detectives and the Louisiana State Fire Marshal's Office contacted Willyard at his residence, and he was placed under arrest. Detectives also located a bicycle in his yard matching the one from the video. Willyard was booked into the Lafourche Parish Correctional Complex in Thibodaux. He is charged with Simple Arson and Simple Burglary. His bail is set at $40,000.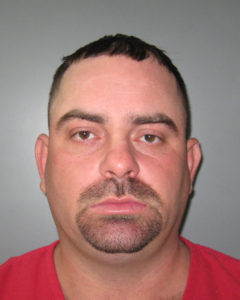 Man Arrested for Arson and Burglary of a Boat in Larose