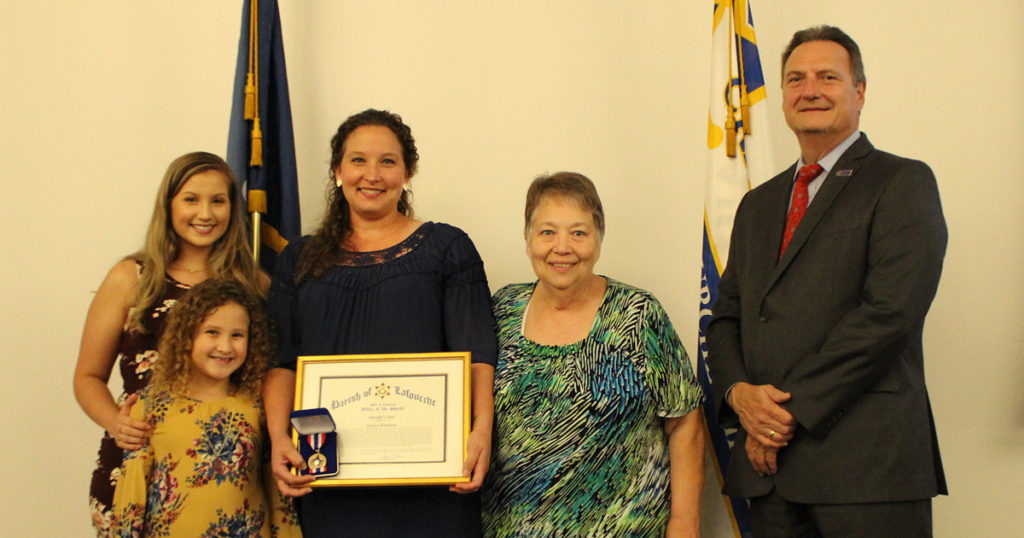 Lafourche Parish Sheriff Craig Webre honored law enforcement officers and local heroes at the 2019 Lafourche Pride Awards held on Saturday, September 21 at the Wellness Center at Thibodaux Regional Medical Center. More than 65 Lafourche Parish Sheriff's Office employees and citizens were honored for feats of bravery, exceptional work, and dedication to public service during the 26th annual awards program. The event is sponsored and organized by the Lafourche Deputies Association.
Captain Jessica Bordelon was awarded the Sheriff's Star, which is considered one of the highest honors at the Lafourche Parish Sheriff's Office. Captain Bordelon was recognized primarily for her outstanding work as coordinator of the Transition Team for the Lafourche Parish Correctional Complex. She was part of the project from the identification of a funding source, through planning and construction, and the transition from the old jail into the new Correctional Complex. Her efforts largely aided in the Lafourche Parish Correctional Complex becoming a model for corrections and criminal justice reforms in the state of Louisiana. Captain Bordelon is also the warden at the Transitional Work Program located on U.S. Highway 90 in Raceland.
In addition to Captain Bordelon, Sergeant Karyn Dardar, Deputy Latifa Williams, and Major Marty Dufrene all received Distinguished Service medals for their work on the Lafourche Parish Correctional Complex project. Every member of the Transition Team also received commendations. Sergeant Robert Mason, Deputy Lesley Hill, and Correctional Officer Charles Todaro also received Distinguished Service awards.
Deputy Madeline Leboeuf was awarded a Purple Heart medal for an attack by an inmate, and three correctional officers – Anthony Borne, Erica Chiasson, and Mark Barrett – were honored with lifesaving awards for intervening in the attack. Gia Gervais, a 38-year-old woman with Down Syndrome, was also honored with a Lifesaving medal for contacting emergency services in April 2019 when her mother, Ruby, was having a heart attack. Gia was able to convey important information to dispatchers at her mother's most desperate time of need. Others receiving Lifesaving awards included Lt. Brett Exnicious, Deputy Harry Guillot, former Chaplain Jim Duck, and William Simmons, a Nicholls State University student.
The LPSO Narcotics Section and DEA Task Force Group 3 received a unit commendation for their efforts in an international narcotics investigation which has led to more than 40 arrests in Lafourche Parish and the seizure of 90 pounds of methamphetamine, five kilograms of cocaine, as well as other drugs, over a dozen guns, and more than a quarter of a million dollars. Additionally, several investigators were honored as part of the unit into the investigation of a double homicide in Larose which led to multiple convictions. The Transitional Work Program and the Criminal Investigations Division also received unit commendations for outstanding work in the past year. Individual employees receiving commendations were Reserve Lieutenant Tim Wisinger, Sergeant Blake Thibodaux, Sergeant Todd Prevost, Sergeant Derek Champagne, Sergeant Marissa Dufrene, Sergeant Keniyelle Frank, Sergeant Lance Leblanc, Deputy Jamaal King, Deputy Steven Pitts, Deputy Justin Benoit, and Deputy Joe Fanguy. Terrebonne 911 and citizens Dakota Gary and Jonathan Bridier also received commendations.
In other awards, Penne Carpenter, who owns several Domino's Pizza franchises in the area, was honored with a Humanitarian Award for her donations to local law enforcement and unwavering support. Captain Karla Beck was also honored as the Lafourche Deputies Association 2019 Outstanding Member of the Year. Sheriff Webre also recognized the 2019 retirees, including Bobby Gideon who retires this year with 31 years of service. Other retirees included Denise Boudreaux (16 years), Chris Arceneaux (16 years), Mark Bartnesky (12 years), Barry Hebert (11 years), and Rickey Lorensen (10 years).
More Than 65 Individuals Honored at 2019 Lafourche Pride Awards