Lafourche Parish Sheriff Craig Webre is asking for the public's help to identify a suspect wanted for the theft of a wallet in Lafourche Parish. The suspect is also wanted in Terrebonne Parish due to using a stolen credit card there.
Detectives are investigating a vehicle burglary in the Cut Off area in which a wallet was stolen from an unlocked vehicle. The wallet contained a debit card, driver's license, and other important documents. Deputies had collected evidence at the scene and questioned a possible suspect in the case.
Meanwhile, investigators learned the debit card was used at a department store in Terrebonne Parish. Surveillance cameras captured images of a slender white man as he was leaving the store with a television he had purchased with the stolen card. He also purchased several other electronic devices with the stolen card including a laptop computer.
Investigators in Lafourche and Terrebonne are asking for the public's help to identify the suspect in this case. Anyone who can identify this suspect is asked to submit a tip anonymously through Crime Stoppers Bayou Region by phone at 1-800-743-7433 or online at www.crimestoppersbr.org. Tips can also be submitted using the P3 Tips app on your mobile device. Tipsters could be eligible for a reward of up to $1,000 in cash if the information leads to an arrest.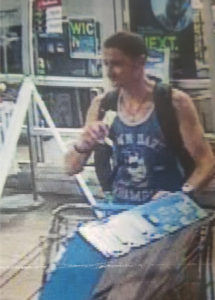 Detectives Seek to Identify Suspect in Vehicle Burglary and Stolen Debit Card Investigation