UPDATE: Chiasson's family reported that she returned home Thursday morning shortly after this release was issued. Detectives have confirmed she is back home and safe. 
ORIGINAL POST:
Lafourche Parish Sheriff Craig Webre announced a Silver Alert has been issued statewide for 82-year-old Lydie Chiasson of Bayou Blue who has been missing since Wednesday, October 2, 2019. She was last seen at around 7:30 p.m. on Wednesday leaving her residence with an unknown male friend in a small brown van, which is possibly a Dodge Caravan. She does not have a cell phone in her possession.
Chiasson is a white female with gray hair, 5'3" tall, and she weighs approximately 130 pounds. She was last seen wearing a black and white shirt bearing a pattern design with black pants.
If anyone has seen Lydie Chiasson or has any knowledge of her whereabouts, please contact the Lafourche Parish Sheriff's Office immediately at (985) 532-2808, or simply call 911.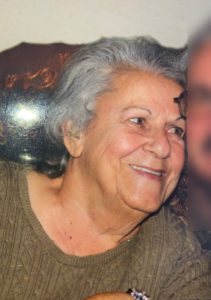 SILVER ALERT: Lydie Chiasson