Sheriff Craig Webre invites the public to join the Lafourche Parish Sheriff's Office and more than 30 other public service agencies at the 9th Annual Bayou Region Public Safety Expo. This fun-filled event will be held from 10 a.m. to 2 p.m. on Saturday, October 19, 2019, at the Warren J. Harang Jr. Municipal Auditorium, located at 310 North Canal Boulevard in Thibodaux.
This event is free to the public, and there will be information and demonstrations for all ages. The Lafourche Parish Sheriff's Office will display vehicles, tools, and technology used by deputies on a daily basis to keep our citizens safe. Those who attend can get a first-hand look at several vehicles used by LPSO including our mobile command vehicle, water patrol boat, motorcycle, and other equipment. Explorers from POST 323 will be providing Child IDs, fingerprinting and DNA swabs.
More than 30 public agencies from Lafourche and Terrebonne, including law enforcement, fire, medical and emergency preparedness, will be on hand displaying similar equipment and vehicles such as helicopters, tactical equipment, ambulances, fire trucks and much more. Other activities at the expo include K-9 demonstrations, equipment demonstrations, safety demonstrations, interactive training tools, and child safety seat inspections. Food and drinks will also be available to the public.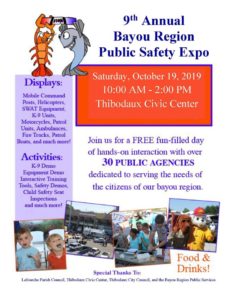 Ninth Annual Bayou Region Public Safety Expo Scheduled for Saturday, October 19