Lafourche Parish Sheriff Craig Webre announced a Raceland man was arrested on drug and weapon charges following a traffic stop. Joey Gilliam, 27, was arrested on November 11, 2019.
Shortly after 11:30 p.m. on Monday, November 11, a K-9 deputy conducted a traffic stop on a vehicle traveling on LA Highway 182 in Raceland. The deputy identified the driver as Joey Gilliam. The deputy smelled the odor of suspected marijuana, and the K-9 alerted to the possible presence of narcotics inside the vehicle. The deputy found over 15 ounces of marijuana inside a glass jar, a box of small plastic bags, a scale, and a loaded pistol. The deputy also discovered small amounts of synthetic marijuana, MDMA, and a prescription drug. Gilliam was also found to have a small amount of the prescription drug on his person, as well as another pistol.
Gilliam was arrested and booked into the Lafourche Parish Correctional Complex. He was charged with Possession with Intent to Distribute Marijuana and Possession of MDMA, Synthetic Marijuana, Drug Paraphernalia, and a Legend Drug. He was also charged with Illegal Carrying of a Weapon in the Presence of a Controlled Dangerous Substance and improper vehicle lighting. His bail is set at $31,600.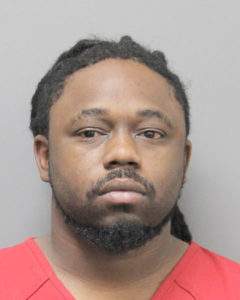 Traffic Stop Leads to Drug and Weapon Charges for Raceland Man