Lafourche Parish Sheriff Craig Webre announced an investigation into recent vehicle burglaries led to the discovery of nearly $60,000 in narcotics. Daniodran Gabriel, 25, faces numerous narcotics charges. A 17-year-old male juvenile has also been charged in the burglary investigation.
On December 9, 2019, patrol deputies responded to several reports of vehicle burglaries and attempted burglaries in the Mathews and Cut Off areas. During the investigation, deputies collected physical evidence left at the scene of one of the burglaries. This led investigators to obtain a search warrant for a residence on St. Louis Street in Raceland.
On December 10, 2019, detectives arrived at the residence and made contact with Daniodran Gabriel and a 17-year-old male juvenile. During a search of the residence, detectives discovered illegal drugs. Narcotics agents obtained another search warrant and seized approximately 1.5 pounds of methamphetamine, 1.5 pounds of marijuana, 8.5 ounces of cocaine, 5.6 grams of crack cocaine, and 57 oxycodone pills, as well as a variety of drug paraphernalia, counterfeit money, and a handgun. These were all found to belong to Gabriel. The total street value of the drugs seized is nearly $60,000.
Gabriel was arrested and booked into the Lafourche Parish Correctional Complex in Thibodaux. He was charged with Possession with Intent to Distribute Methamphetamine, Cocaine, Marijuana, and Oxycodone. He was also charged Possession of a Firearm by a Convicted Felon, Illegal Carrying of a Weapon in the Presence of a Controlled Dangerous Substance, Monetary Instrument Abuse, and Possession of Drug Paraphernalia. Bail is set at $750,000.
Meanwhile, the juvenile was charged with Simple Burglary of a Motor Vehicle and Attempted Simple Burglary of a Motor Vehicle and placed into the Lafourche Parish Juvenile Justice Facility in Thibodaux. The investigation is continuing, and additional charges are possible.
Detectives believe other individuals are involved in the vehicle burglaries. Anyone with information on these vehicle burglaries is asked to contact Crime Stoppers Bayou Region at 1-800-743-7433. Tips can also be submitted using the P3 Tips app or online at www.crimestoppersbr.org. A reward of up to $1,000 is available if the information leads to an arrest.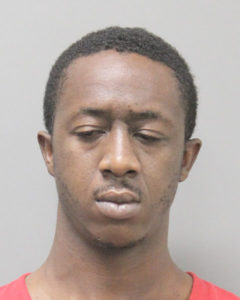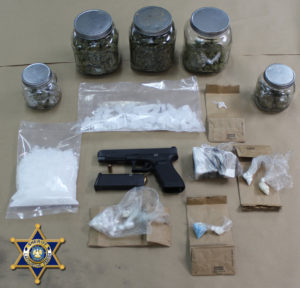 Investigation into Vehicle Burglaries Leads to Discovery of Nearly $60,000 in Narcotics