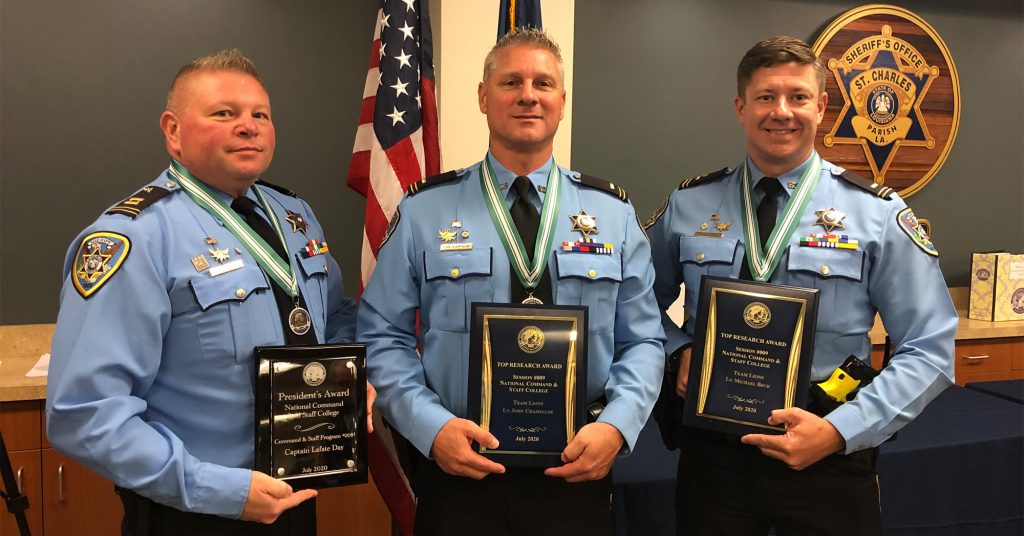 Sheriff Craig Webre announced three Lafourche Parish Sheriff's Office supervisors have graduated with honors from the ninth session of the National Command and Staff College. Captain Lafate Day, Lieutenant John Champagne, and Lieutenant Michael Beck Jr. were among 42 law enforcement commanders from Louisiana, Mississippi, Alabama and Texas who completed the course.
A graduation ceremony was held in Luling, Louisiana, on July 17, 2020. During the ceremony, Captain Day was presented the President's Award, given to the individual who demonstrates leader and learner responsibility and accountability early in the program and remains consistent throughout, integrating personal and professional leadership and management experiences to support concepts learned.
Lieutenant Champagne and Lieutenant Beck were part of Team Lion which received the Capstone Research Award. The students were divided into several teams to conduct their capstone research for the course. This award is given to the team which exhibits a well-defined, collaborative effort with a focus on written and oral presentation skills and several other elements. Team Lion chose "officer wellness" as their capstone research project, focusing on several factors of physical and mental health and the need for law enforcement agencies nationwide to promote health and wellness with officers. Due to the team's outstanding work, their findings will be published for agencies to review.
"I'm extremely proud of these three individuals," said Sheriff Webre. "Not only did they submit to several weeks of classes, studies, and lectures, they did so in addition to their normal duties and amidst a pandemic. On top of that, they distinguished themselves among their classmates, furthering the Lafourche Parish Sheriff's Office role as a national leader in law enforcement. Now they will apply what they have learned to become better leaders to serve our community."
The National Command & Staff College was founded in 2010 by the International Academy of Public Safety, Inc. in collaboration with the National Sheriffs' Association and the National Tactical Officers Association. The comprehensive course, which was expanded to 14 weeks for this session, focuses on topics such as leadership theories and practices, social media, recruitment, foresight, policing issues, ethics, and diversity. The course is designed to produce leaders to promote community safety, build mutual trust, maximize officer safety and wellness, foster star performance, and reduce liability and risks. Students read several books, participate in hundreds of hours of course lectures, and write numerous essays each with case studies, discussion questions and classroom simulations.
LPSO Chief Deputy Roy Gros, Major Cortrell Davis (Correctional Complex Warden), and Lieutenant Benjamin Dempster (Investigations Supervisor) all previously graduated from the National Command and Staff College in prior years.
For more information on the National Command and Staff College, go to www.CommandCollege.org.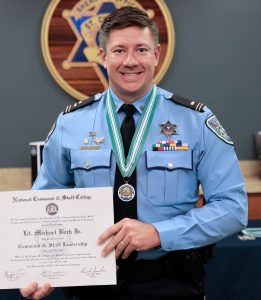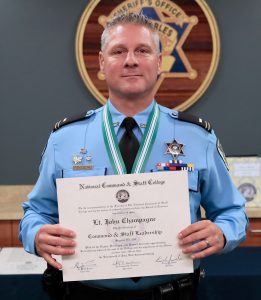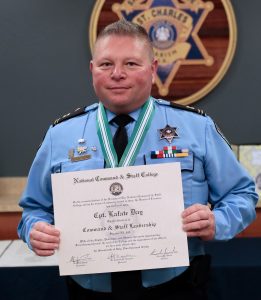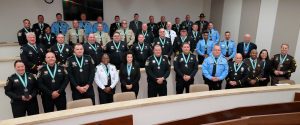 Three LPSO Supervisors Graduate with Honors from National Command and Staff College