Lafourche Parish Sheriff Craig Webre announced a Raceland man has been arrested following a pursuit after a shooting incident which left one man injured on Monday night. Deputies arrested Kourtland Jones, 21, of Raceland after getting into a pursuit after the shooting which occurred in Raceland. Jones is a person of interest in the shooting. No other arrests have been made.
While patrolling in the Raceland area just after 9:50 p.m. on December 14, 2020, deputies heard gunshots in the area of St. Louis Street. While proceeding toward the area, deputies saw a car leaving the area and attempted a traffic stop. The driver refused to stop, and deputies pursued the car onto LA 1 and then onto LA 182 heading toward Bayou Blue. The driver continued along LA 182 until reaching the intersection with LA 316. At that point, the driver pulled up behind a convenience store and exited the car. He began running on foot.
With the assistance of the Terrebonne Parish Sheriff's Office, deputies searched the area and located the driver who was identified as Kourtland Jones. He was found to have narcotics in his possession. During questioning, Jones denied taking part in the shooting. He was arrested and booked into the Lafourche Parish Correctional Complex on charges of Aggravated Flight from an Officer, Possession of Xanax, and Failure to Display License Plate. He was released on Tuesday afternoon, December 15, after posting $15,050 bail. Jones remains a person of interest in the shooting as the investigation continues.
Meanwhile, during the pursuit, a man arrived at a local hospital with gunshot wounds. He was transported to a New Orleans hospital for treatment. His injuries are currently not considered to be life-threatening. The victim told detectives he was taking out the trash when he was shot.
The investigation into the shooting is continuing. Anyone with information on the shooting is asked to submit a tip anonymously through Crime Stoppers Bayou Region by phone at 1-800-743-7433 or online at www.crimestoppersbr.org. Tips can also be submitted to Crime Stoppers through the Lafourche Parish Sheriff's Office mobile app. Tipsters could be eligible for a reward of up to $1,000 in cash if the information leads to an arrest.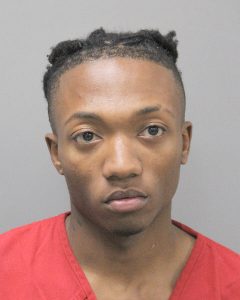 One Arrested Following a Pursuit after a Shooting in Raceland