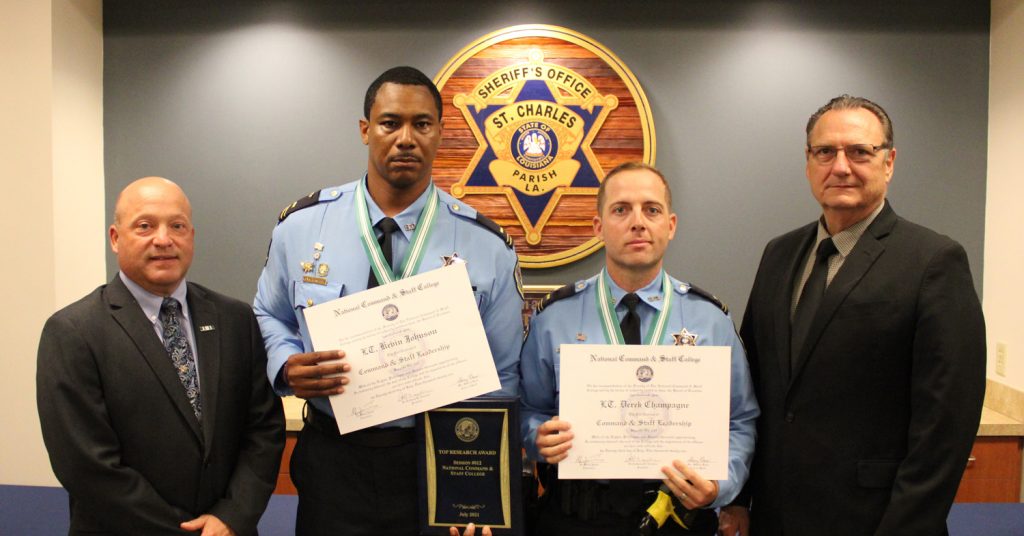 Sheriff Craig Webre announced two Lafourche Parish Sheriff's Office supervisors have graduated from the twelfth session of the National Command and Staff College. Lieutenant Derek Champagne and Lieutenant Kevin Johnson were among 23 law enforcement commanders from Louisiana, New Mexico and South Carolina who completed the course.
A graduation ceremony was held on July 23, 2021, at the St. Charles Parish Sheriff's Office Training Center and Special Services Complex in Luling, LA. During the ceremony, Lieutenant Johnson was recognized as part of Team Tiger which received the Capstone Research Award. The students were divided into several teams to conduct their capstone research for the course. This award is given to the team which exhibits a well-defined, collaborative effort with a focus on written and oral presentation skills and several other elements.
Both Lieutenant Champagne and Lieutenant Johnson had been promoted to new positions earlier this year. Lieutenant Champagne was promoted to commander of the narcotics section, and Lieutenant Johnson was promoted to director of the Lafourche Sheriff's Regional P.O.S.T. Training Academy.
"I'm very proud of these individuals," said Sheriff Webre. "They submitted themselves to several weeks of classes, studies, and lectures, all while taking on new roles and duties, and all during a pandemic. I congratulate both of these men on their graduation in their efforts to become better leaders for their community."
The National Command and Staff College was founded in 2010 by the International Academy of Public Safety, Inc. in collaboration with the National Sheriffs' Association and the National Tactical Officers Association. The comprehensive, eight-week course focuses on topics such as leadership theories and practices, social media, recruitment, foresight, policing issues, ethics, and diversity. The course is designed to produce leaders to promote community safety, build mutual trust, maximize officer safety and wellness, foster star performance, and reduce liability and risks. Students read several books, participate in hundreds of hours of course lectures, and write numerous essays each with case studies, discussion questions and classroom simulations.
Previous graduates of the National Command and Staff College from the Lafourche Parish Sheriff's Office include Chief Deputy Roy Gros, Major Cortrell Davis, Major Lafate Day, Captain John Champagne, Lieutenant Benjamin Dempster and Lieutenant Michael Beck Jr.
For more information on the National Command and Staff College, go to CommandCollege.org.
– ### –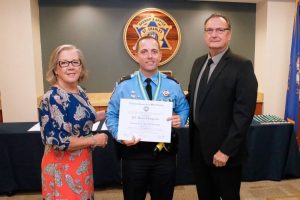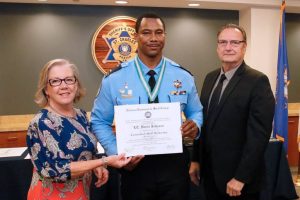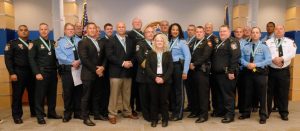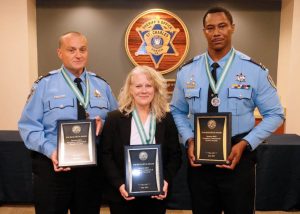 Two LPSO Supervisors Graduate from National Command and Staff College