More than 100 individuals were honored at the 2016 Lafourche Pride Awards Banquet which took place Saturday, October 1 at the Larose Civic Center. Lafourche Parish Sheriff's Office employees and local citizens were honored for feats of bravery, exceptional work, and dedication to public service during the 23rd annual awards program. The Lafourche Deputies Association sponsors and organizes the program through the financial support of its members who are employees of the Lafourche Parish Sheriff's Office. Sheriff Craig Webre utilizes this annual event to publicly honor employees and civilians who perform commendable work, save someone's life, or perform their job in a distinguished and commendable manner. In all, over 100 law enforcement officers, and five civilians were honored, along with retirees McLean Chaisson, Robert "Bubba" Trotti, Wayne Foret, and Edell Price.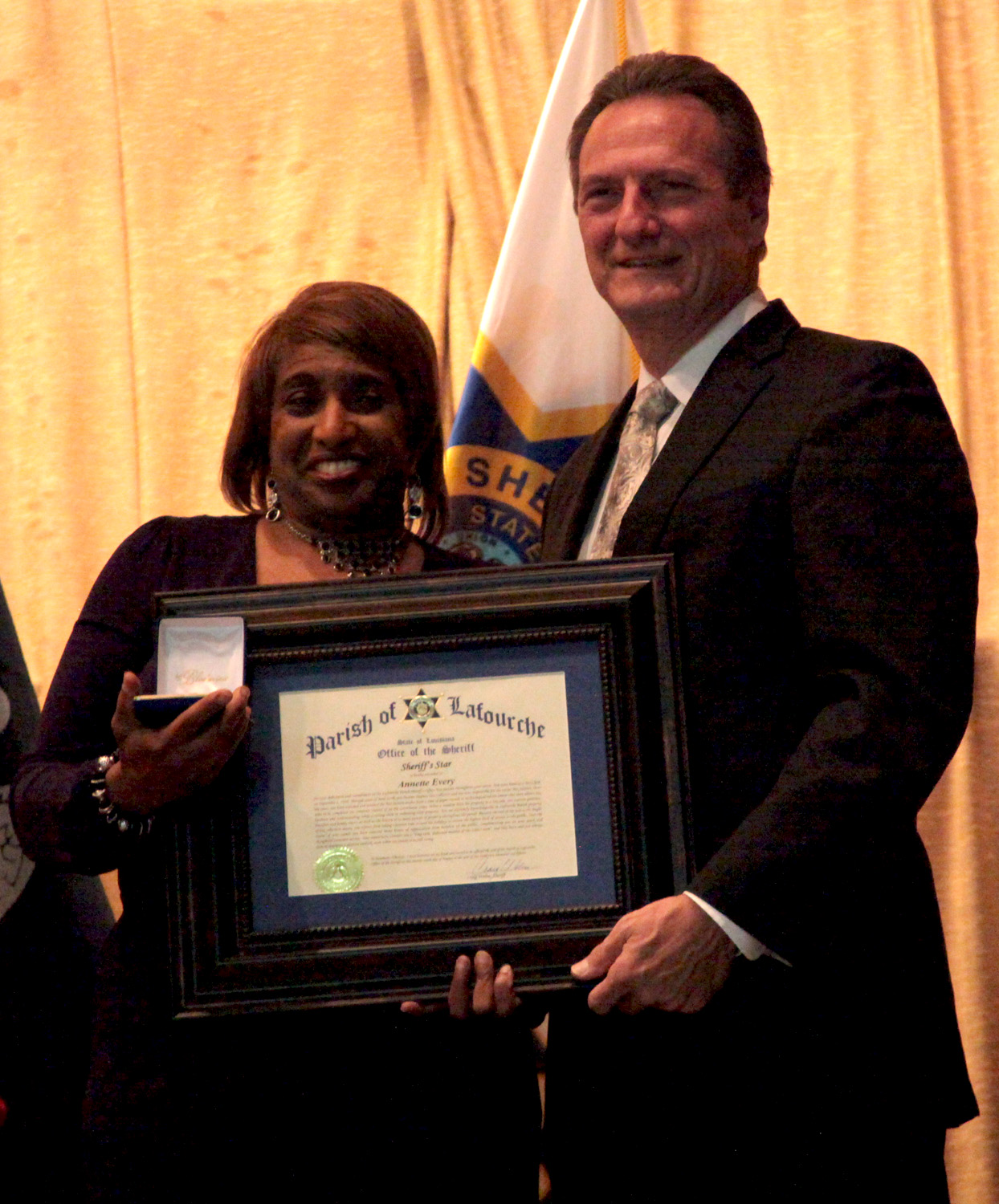 Annette Every, Deputy Tax Collector and supervisor of the LPSO Tax Section, received the Sheriff's Star for her outstanding years of dedicated service to the Tax Section. She began her career as a Tax Clerk in 1988 and has amassed many letters of appreciation from members of the public, complimenting her on her quick and thoughtful customer service. The Sheriff's Star is awarded annually to an outstanding employee as selected by Sheriff Craig Webre, and the winner is revealed at Lafourche Pride.
Two employees were recognized with state honors as well. Mitch Samaha with the Louisiana Department of Wildlife and Fisheries recognized Lieutenant Nolan Smith Jr. as the Southeast Regional Hunter Education Instructor of the Year for 2016. Additionally, it was announced that Lieutenant Doug Foreman had received the Louisiana Sheriff's Association Deputy of the Year Award. Lieutenant Foreman, who is the 2015 Sheriff's Star winner, was presented the award during a private ceremony in August.
Ronnie "Potat" Thibodaux and his wife, Donna, received a Humanitarian Award for their efforts to raise money for cancer research through the Potat and Donna Festival held each December in Chackbay. Ronnie Thibodaux serves as LPSO Fleet Operations Manager, and Donna is a breast cancer survivor. In the first three years of the festival, they have raised over $60,000 which has been donated to the American Cancer Society. Additionally Joyce "Sam" Clark received a Humanitarian Award for her efforts in helping to secure countless donations for needy families and employees during her 14 years with LPSO.
Deputy Karla Loupe received a Lifesaving Award for saving an injured 13-year-old from a burning vehicle following a crash involving two 18-wheelers in November 2015. Louisiana Probation and Parole District Manager Corey Acosta and Agents Jon Barbera, Eddie Fannin and Mike Delong also received Lifesaving Awards for saving the life of a one-year-old boy who was choking at a Thibodaux restaurant in October 2015. Additionally, Port Allen Police Officer Robert Cannon was recognized for his efforts in helping save the life of a man who had crashed into Bayou Chevreuil in July 2016. Four other citizens – Derik Webre, Connor Cazenave, Kevin Scioneaux, and Gabriel Rouge – were also recognized for their efforts in that crash.
Deputy Dylan Cortez received the Purple Heart for injuries he sustained while working as an Agent with the Lafourche Parish Drug Task Force in August 2015. Deputy Cortez was working undercover to purchase high-grade marijuana. While sitting in a car with the suspect, agents attempting to move in for an arrest. The suspect attempted to flee the scene and caused a five-car crash which resulted in Deputy Cortez's leg going through the windshield. He was treated for several bumps and bruises as well as a laceration to his leg.
Detective Sergeant Baron Cortopassi and Detective Jeff Chamberlain each received Distinguished Service Awards for work on respective investigations. Cortopassi was the lead detective in the armed robbery which occurred in Lockport in February 2015, while Chamberlain worked the case involving the death of Cordaryle Robert of Slidell this past summer after his vehicle was found burning in a sugar cane field in Thibodaux. Captain J.P. deGravelles received a Distinguished Service Award for his innovation which led to a proactive approach to collection of court fees and fines. Lieutenant Valerie Martinez, Lieutenant Wanda Wawrose, Lieutenant Michael Leclair, Reserve Captain Paul Lefort Jr., Deputy Dodie Fuselier, Larry Chamberlain were also honored with Distinguished Service Awards for their years of dedication to the agency.
The Lafourche Parish Detention Center's C-Shift received a Unit Commendation for their outstanding work responding to a lightning strike and a fire at the jail in two separate incidents this past summer. The Patrol Division's B-Shift also received a commendation for their community outreach work. The LPSO Communications Section, Water Patrol, School Traffic Guards, and Process Servers also received Unit Commendations.
Individual Certificates of Commendation were presented to several deputies as well as two civilians. Thibodaux High School student Elliot Boudreaux was recognized for his efforts in stopping three teenage girls attacking another teenage girl not far from his residence in an incident that occurred this past February. Brandi Crittenden was commended for her actions in September 2015 in rescuing a four-year-old boy who had been deserted and wandered into traffic on Talbot Avenue in Thibodaux.
Lieutenant John Champagne, Lieutenant Valerie Martinez, Sergeant Adam Dufrene, Agent Jason Fallon, and Agent Martin Gutierrez were recognized for their efforts in an investigation into human trafficking in South Lafourche and freeing one of the girls involved in the prostitution ring. Their investigation was turned over to federal authorities and resulted in several federal indictments after uncovering a network of human trafficking in the southern United States. Other employees received Certificates of Commendation as follows:
Lieutenant Trent Duplantis – for safely apprehending a burglary suspect into custody who had brandished a firearm during the encounter.
Sergeant Derek Champagne and Sergeant Todd Prevost – for their combined efforts working in the Problem-Oriented Policing (POP) Squad and Bicycle Patrol.
Lieutenant John Champagne, Sergeant Adam Dufrene, Agent Martin Gutierrez, Agent Jeremy Doucet, Agent Jason Fallon, and Lockport Police Detective David Harrelson – for an operation which resulted in three arrests and the recovery of a pill press, thousands of pills, and other drugs.
Lieutenant Trent Duplantis and Sergeant Derek Champagne – for rescuing the family of a Reserve Deputy trapped in their flooded Baton Rouge home.
Lieutenant Craig Denison and Deputy Joseph Bourgeois – for their investigation into an incident wherein a woman attempted to plant drugs for an inmate on an LPSO transport van.
Deputy Gilbert George, Correctional Officer Farrell Theriot, and Nurse Cordelia Landry – for their actions in responding to an medical emergency in June involving Deputy Werly Gervais who passed away later that day.
Sergeant Yvonne Ordoyne and Samantha Ordoyne – for their outstanding work in helping the Transitional Work Program achieve re-accreditation.
Correctional Officer Robert Knight – for apprehending a burglary suspect while driving in Bayou Blue on his day off.
Reservist Angela Large – for her volunteer work to the Lafourche Parish Shooting Range.
The event's sponsor, the Lafourche Deputies Association, also recognized Austin Weibler as the Outstanding Member of the Year for 2016.
Over 100 Individuals Honored at 2016 Lafourche Pride Awards