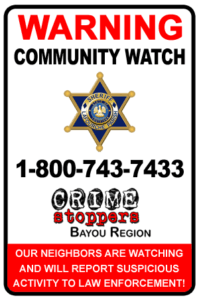 Community Watch programs organize neighborhood residents to teach and promote crime-prevention techniques. Together, residents can watch out for one another and eliminate opportunities for crimes.
To start a Community Watch, form a small committee to discuss the needs, interests, and concerns of your neighborhood, and identify possible dates/times/locations for the initial meeting. Contact Police Social Services at (985) 449-4476 to confirm a meeting date, and then spread the word to neighbors.
An LPSO deputy will attend the meeting to help assess the needs of the community.
To educate yourself with tips on how to begin and grow a community watch program, visit www.StaySafe.org/Starting-and-Growing-a-Neighborhood-Watch.