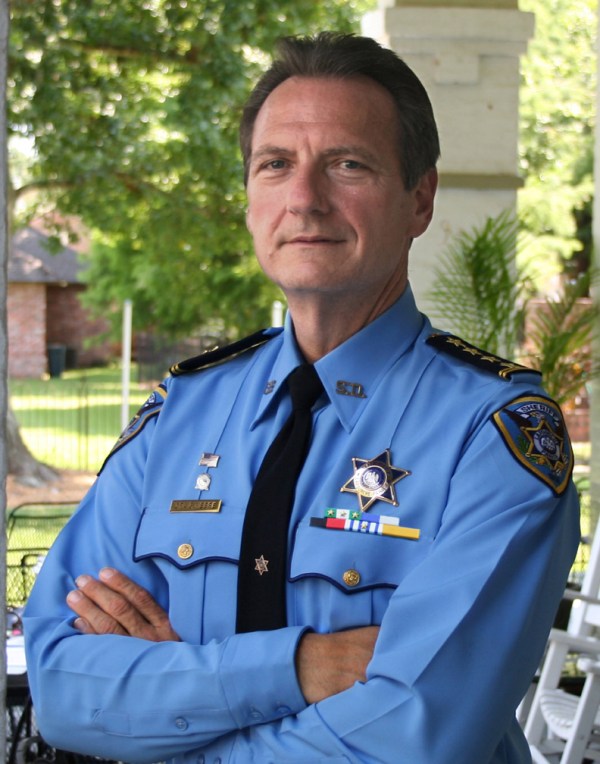 On July 1, 1992, Craig Webre raised his hand and took the oath of office as the new Sheriff of Lafourche Parish. After a hard fought battle against a 16-year incumbent, at the age of 30, Webre became one of the youngest Sheriff's to ever hold office in Louisiana. He assembled a team of dedicated peace officers and loyal office personnel to begin the trek toward accomplishment and accountability in the Sheriff's Office.
A lifelong resident of Lafourche Parish, Webre began his law enforcement career by becoming a police officer for the City of Thibodaux. From the Thibodaux Police Department, Webre joined the Lafourche Parish Sheriff's Office and thereafter went to work for the Louisiana State Police where he worked as a State Trooper for nine years.
He did all this while continuing his education. As a senior in law school, Webre offered himself as a candidate for Sheriff of Lafourche Parish. In May of 1992, Webre graduated from law school, and two months later he was sworn in as Sheriff. Shortly thereafter, he successfully completed the Louisiana State Bar Exam.
During his tenure, Sheriff Webre established the Lafourche Parish Sheriff's Office's Police Social Services section – a one-of-a-kind program serving the elderly and crime victims – which has received many honors at the state and national level. He also established the Transitional Work Program (work release), Reserve (volunteer) Division, Sex Offender Accountability Program, bicycle patrol, traffic division, school resource officers, pre-trial home incarceration, misdemeanor probation, and meal preparation for senior citizens and Head Start. For the youth, he expanded the D.A.R.E. program and established several new programs including Explorers, summer camp, college scholarship, and the Christmas Bicycle Giveaway for the underprivileged. He also partnered with the Bayou Country Children's Museum to launch the "Safetyville" exhibit and established The P.A.C.T. Place Supervised Visitation and Exchange Center – one of the only of its kind run by law enforcement. Sheriff Webre also began new public classes including Rape Aggression Defense (RAD), radKIDS, and concealed handgun training.
Sheriff Webre launched the Lafourche Crime Stoppers program which has now expanded into Crime Stoppers Bayou Region serving the parishes of both Lafourche and Terrebonne. He was also part of the team that established the Lafourche Parish Drug Treatment Court as an alternative to incarceration.
Under Sheriff Webre's leadership, the Lafourche Parish Sheriff's Office achieved National Accreditation under the watchful eye of the Commission on Accreditation for Law Enforcement Agencies (CALEA). In 2015, the Lafourche Parish Sheriff's Office was re-accredited with excellence – CALEA's "Gold Standard" for accreditation. Then in 2020, the Training Academy and Communications Sections were accredited, resulting in Tri-Arc Accreditation status with CALEA. In addition, the LPSO Transitional Work Program maintains National Accreditation by the American Correctional Association (ACA). The new Lafourche Parish Correctional Complex, which began operations in January 2019, initially achieved ACA accreditation in 2021.
Work Experience
Sheriff of Lafourche Parish (1992-present)
Adams & Reese: Law Clerk (May 1991-August 1991)
Louisiana State Police: Trooper First Class (January 1982-May 1991)
Lafourche Parish Sheriff's Office: Deputy (September 1980-January 1982)
Thibodaux Police Department: Patrolman (January 1980-September 1980)
Teaching Experience
Loyola University New Orleans: Past Adjunct Professor: Criminal Justice Master's Program
Nicholls State University: Past Adjunct Professor: Criminal Justice, Department of Government
National Sheriff's Institute: Past Presenter: "Power & Influence of the Office of the Sheriff"
Education
Loyola University New Orleans College of Law: Juris Doctor, Law, 1992
Loyola University New Orleans: Bachelor's Degree, Criminal Justice
Nicholls State University: Associate's Degree, Criminal Justice
Thibodaux High School
National Sheriff's Institute: Graduate, Class President
FBI Law Enforcement Executive Development Association (FBI-LEEDA)
Awards & Honors
2020 Egon Bittner Award – CALEA (Commission on Accreditation for Law Enforcement Agencies)
2019 Ally of the Year – Louisiana Coalition Against Domestic Violence
2018 Best and Brightest Companies to Work For in the Nation
2017 When Work Works Award for Exemplary Workplace Practices
2016 Best Dressed Public Safety Uniform
2015 Louisiana Justice Hall of Fame Inductee
2015 Bufford Pusser National Law Enforcement Officer of the Year
2014 Public Official of the Year – National Association of Social Workers, Louisiana Chapter
2013 Public Official of the Year – National Association of Social Workers, Houma-Thibodaux Region
2010 NHTSA Public Service Award for DDACTS Program
2009 Award for Professional Innovation in Victim Services – U.S. Department of Justice, Office of Victims of Crimes
2009 Tadini Bacigalupi Program of Distinction Award for Police Social Services – National Organization for Victim Assistance
2008 Neighborhood Watch Award for Excellence by a Sheriff's Office – National Neighborhood Watch
2008 Excellence in Victim Services Award – International Association of Chiefs of Police
2007 Community Service Award – National Association for the Advancement of Colored People, Lafourche Chapter
2005 Crime Victim Services Award – National Sheriffs Association
2005 Outstanding Organization Award – Louisiana Association of Victims and Citizens Against Crime
2005 Program of the Year – Thibodaux Rotary Club
2004 "Keep the Dream Alive" Award – Martin Luther King, Jr. Day Committee
2002 Sheriff of the Year – Louisiana Association of Victims and Citizens Against Crime
2001 Criminal Justice Award  – Louisiana Attorney General
1999-2000 Champion of Children Award – Raceland Upper Elementary School
1996 Certificate of Appreciation for 10 Years of Service – Mothers Against Drunk Driving
1992 "Distinguished Fellow" Designation – University of New Orleans, Government Leadership Institute
Sheriff's Humanitarian Award – Alabama Sheriff's Association
Professional Affiliations
National Sheriff's Association

President (2007-2008) – also served prior as 1st Vice President, 2nd Vice President, 3rd Vice President, 4th Vice President, 5th Vice President, and Sergeant-At-Arms

Louisiana Sheriff's Association
CALEA (Commission on Accreditation for Law Enforcement Agencies)

Past Executive Board Member (President, Vice President, Vice-Chair)
Commissioner

Louisiana Supreme Court Price of Justice Grant

Advisory Committee (2018-2019)

Gulf States Regional Community Policing Institute

Regional Governing Board Chairman (2001-2010)

Southeast Louisiana Criminalistics Laboratory Commission
Metropolitan Law Enforcement Commission
Lafourche Parish Sales & Use Tax Committee
Lafourche Parish Bar Association
Terrebonne Parish Bar Association
Louisiana Commission on Law Enforcement
Louisiana Sheriff's Pension and Relief Fund

Executive Board Member (1997-1998)
Board Member (1994-1995)
Other Memberships
Acacia Shrine Temple
American Probation and Parole Association
American Correctional Association
Bayou Industrial Group, Inc.
Council for a Better Louisiana (CABL)
Friends of Lafourche Parish Drug Court Foundation
International Association of Chiefs of Police (IACP)
Lafourche Parish Prevention Partnership
Law Enforcement Executive Development Association (LEEDA)
Louisiana Cattleman's Association
Louisiana Sheriff's Association
National Association for the Advancement of Colored People (NAACP)
Nicholls State University Alumni Association
Professional in Pretrial Services Association
Public Affairs Research (PAR) Council
St. Charles Masonic Lodge #445
Thibodaux Rotary Club
Veterans of Vietnam War, Inc.
Walter I. Lanier Masonic Lodge #307