We provide local (Lafourche Parish) criminal history reports at a cost of $5 each for parish residents or $10 for non-parish residents. Reports can be obtained by visiting the LPSO Administrative Office (200 Canal Blvd., Thibodaux), Criminal Operations Center (805 Crescent Avenue, Lockport), or the South Lafourche Sub-station (102 West 91st Street, Cut Off). The applicant must present a valid photo ID.
For more information, please contact our Records Section: (985) 449-4432 | Email
Civil Live Scan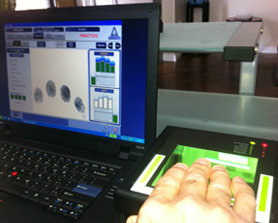 LPSO's Civil Live Scan System allows private employers, state agencies, and other entities to submit an applicant's fingerprints to the FBI and the Louisiana Department of Public Safety (DPS) for the purpose of positively identifying prospective employees or agents. Background checks on individuals determine if an applicant is eligible to hold positions involving children, the elderly, and/or the disabled. It also verifies if the applicant is currently wanted, has an arrest record, or has been convicted of stalking or other domestic violence offenses. Additionally, it will show if the applicant is a convicted sex offender. Businesses using Live Scan must first be registered through DPS. Businesses are also required to use the Live Scan agency user manual to set up user privileges in the Civil Inquiry Network. Contact Alan Davis with the Louisiana Sheriff's Association at (225) 214-0018 to activate your account.
Benefits of using Live Scan:
Digitally captures fingerprints for electronic submission resulting in fast, positive identification of an applicant.a
No more messy ink prints.
Convenient and easy to use for employers.
All information is confidential. No criminal record is seen by anyone other than the registered employer.
Background check results usually obtained within 24 hours, as opposed to weeks or months.
Background check results on an individual can be viewed and printed by the employer on a secure website. Results will also be mailed directly to the employer from Louisiana Department of Public Safety.
Employer can set day for applicant to be scanned at his/her convenience.
The cost associated with Live Scan is $41.00 – $57.50 per individual, which could possibly include:
FBI Background Check ($16.50)
Louisiana State Police background check ($26)
Sheriff's Office processing ($10)
Louisiana Sheriff's Association ($5)
Live Scan is mandated by the Department of Public Safety for the following business:
Type of Agency
FBI checks required?
Criminal History Results

ALCOHOL BEVERAGE CONTROL

YES

Non-investigative

ALCOHOL BEVERAGE ORDINANCE

NO

Non-investigative

COURT-ORDERED

ADOPTIONS

YES

Complete w/Expungements

CHILD PROTECTION APPLICANTS-DAYCARES,

ADOPTIONS, CASA, ECT.
NO

Complete w/Expungements

LA JUVENILE DETENTION CENTERS

NO

Complete w/Expungements

LA OFFICE OF COMMUNITY  SERVICES-FOSTER PARENT/ADOPTION

OPTIONAL

Complete w/Expungements

LA OFFICE OF COMMUNITY  SERVICES-ABUSE/NEGLECT

OPTIONAL

Complete w/Expungements

LA OFFICE OF COMMUNITY  SERVICES-PARENTS/CUSTODY

OPTIONAL

Complete w/Expungements

LA OFFICE OF COMMUNITY  SERVICES-PERSONNEL

YES

Complete w/Expungements

LA OFFICE OF COMMUNITY  SERVICES-CARETAKER

OPTIONAL

Complete w/Expungements

SCHOOL  BOARDS

YES

Complete w/Expungements

EMPLOYERS-CONVICTIONS ONLY

NO

CONVICTIONS ONLY

FIREMAN

OPTIONAL

Non-investigative

LA STATE FIRE MARSHAL

OPTIONAL

Non-investigative

HEALTH CARE PROVIDERS

NO

Complete w/Expungements  w/Special Conditions

LA DEPT OF HEALTH

NO

CONVICTIONS ONLY

STATE BOARD OF DENTISTRY

YES

Complete w/Expungements

STATE BOARD OF MEDICAL EXAMINERS

YES

Complete w/Expungements

LA STATE BOARD OF PHARMACY

YES

Non-investigative

LA STATE BOARD OF NURSING  HOME ADMINISTRATORS

YES

Non-investigative

STATE BOARD OF RIVERBOAT PILOT COMMISSIONERS

NO

Non-investigative

LA DEPT OF LABOR

NO

Non-investigative

LA STATE BAR ASSOCIATION

NO

Non-investigative

LA MANUFACTURED HOUSING COMMISSION

NO

CONVICTIONS ONLY

LA PUBLIC HOUSING AUTHORITY

NO

CONVICTIONS ONLY

LA USED MOTOR VEHICLE COMMISSION

NO

Non-investigative

STATE BOARD OF PRACTICAL NURSES

NO

Complete w/Expungements

POST SECONDARY EDUCATION- CONVICTIONS ONLY

OPTIONAL

CONVICTIONS ONLY

STATE BOARD OF PSYCHOLOGY

YES

Complete w/Expungements

LA OFFICE OF MOTOR  VEHICLES-PUBLIC TAG AGENTS

NO

Non-investigative

RELIGIOUS ACTIVIST

NO

Non-investigative

STATE BOARD OF REGISTERED NURSES

YES

Complete w/Expungements

TAXI PERMITS

NO

Non-investigative

BD OF SOCIAL WORK EXAMINERS

YES

Complete w/Expungements

PHYSICAL THERAPY BOARD

YES

Non-investigative