Lafourche Pride Awards
Sheriff Craig Webre annually honors employees and civilians for commendable work, distinguished service, and saving lives through the Lafourche Pride Awards. Please visit the CLICK HERE for more information on this annual program.
National Honors and Awards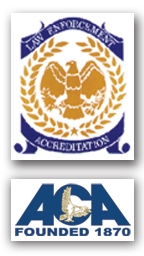 Under the direction and leadership of Sheriff Craig Webre, the Lafourche Parish Sheriff's Office first achieved national accreditation by the Commission on Accreditation for Law Enforcement Agencies (CALEA) in the year 2000. The accreditation period is three years. LPSO was then re-accredited in 2003, 2006, 2009, 2012, and 2015. In addition to being re-accredited in 2015, the Lafourche Parish Sheriff's Office became the first law enforcement agency in Louisiana to achieve Accreditation with Excellence, which is also known as CALEA's "Gold Standard." Sheriff Webre has been a CALEA Commissioner since 2010, and he is currently serving as Vice-President/Vice-Chair of the Commission. Additionally, the LPSO Transitional Work Program is nationally accredited by the American Correctional Association. The program first achieved national accreditation in 2004 and, similar to CALEA, has achieved re-accreditation every three years, including 2007, 2010, 2013, and 2016.
Here is a list of national awards which LPSO has received:
Individual Honors & Awards
Sheriff Craig Webre instills in each and every employee to strive for excellence. This has resulted in employees receiving numerous local awards – too many to list here – as well as many state and national awards. A full list of Sheriff Webre's honors and awards can be found HERE. Below is a list of current LPSO employees who have received national and state-level awards and honors:
Chief Deputy Todd Diaz
Captain Karla Beck

2003 Leanne Knot Memorial Award (Louisiana Coalition for Domestic Violence)
2002 & 2007 Outstanding Victim/Witness Assistance Coordinator Award (Louisiana Victims and Citizens Against Crime)

Captain Lafate Day
Captain Chad Shelby

2011 FBI National Academy Graduate (244th Class)
2010 Award for Excellence for Investigation of Serial Killer Ronald Dominique (International Homicide Investigators Association [

with former detectives, Todd Charlet & Ricky Murphy]

)

Lieutenant Trent Duplantis
Lieutenant Doug Foreman

2015 Deputy Sheriff of the Year (Louisiana Sheriff's Association)

Lieutenant Nolan Smith

2016-2017 D.A.R.E. Officer of the Year (Louisiana D.A.R.E. Officers Association)
2016 Southeast Region Hunter Education Instructor of the Year (Louisiana Department of Wildlife & Fisheries)

Pamela Guedry
Reserve Deputy Jerry Monier Jr. 
National & State Leadership
Sheriff Craig Webre encourages employees to actively participate in professional development and networking through state and national organization. During his tenure, Sheriff Webre and members of his staff have been elected to multiple state and national offices of professional associations. A full list of Sheriff Webre's positions and affiliations can be found HERE. Below is a list of current LPSO employees who are currently serving or have served in state and national organizations:
Captain Karla Beck:
Captain Lafate Day:
Lieutenant Michael Beck:
Lieutenant Brennan Matherne:
Lieutenant Craig Melancon

Louisiana Misdemeanor Probation Officers Association: Member-at-Large (2017-2018)

Deputy Mandy Falcon
Pamela Guedry:
Explorer Captain Naomi Winston
For information on local awards, please visit the Lafourche Pride Awards section.