Lafourche Parish Sheriff Craig Webre announced Taylor Broussard (age 21), who had nine active warrants, was arrested Wednesday in Baton Rouge. Broussard faces several felony charges including stalking, auto theft, battery, and aggravated assault.
As previously released, deputies responded to a disturbance at a Larose residence on Wednesday, May 3. They learned Broussard had forced entry into the home and made contact with an ex-girlfriend. Following a verbal altercation, Broussard struck the woman several times with his fists, all with a juvenile in close proximity. At one point, Broussard brandished a knife and threatened the woman before slashing a mattress and damaging other items in the room. Broussard stole the woman's purse and phone and stole an SUV as he left the residence. Further investigation revealed Broussard had been staying in the attic for an unknown period of time, stalking the victim. Deputies had also been called to the residence a few days prior, on April 29, 2017, in reference to him entering without permission. Deputies were unable to locate Broussard or make contact with him following the May 3 incident.
Then on Wednesday, May 24, Louisiana State Police Troop A located the stolen vehicle in Baton Rouge and took Broussard into custody. He will be booked into the East Baton Rouge Parish Jail on the outstanding Lafourche Parish warrants, as well as for possession of the stolen vehicle. Upon release from East Baton Rouge Parish, Broussard will be transferred to Lafourche where he will be booked on charges including two counts of Stalking, Domestic Abuse Battery with Child Endangerment, Domestic Abuse Aggravated Assault, Theft of a Motor Vehicle, Felony Theft, Home Invasion, Unauthorized Entry of an Inhabited Dwelling, and Simple Criminal Damage to Property.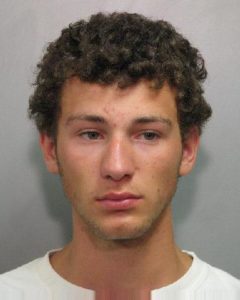 UPDATE: Man Wanted for Stalking, Auto Theft, and Other Charges Arrested in Baton Rouge