Lafourche Parish Sheriff Craig Webre announced the arrest of Ronny Prado (age 33) of Cut Off on Monday. Prado, who was on home incarceration, had removed his ankle bracelet and left his residence.
On September 26, 2017, Prado pled no contest to a third DWI offense, and as part of his sentence, he was ordered to serve 256 days of home incarceration. At around 8:30 p.m. on Monday, November 27, the Lafourche Parish Sheriff's Office received an alert that Prado's ankle bracelet was tampered with. Deputies responded to Prado's residence and discovered Prado had cut off his monitor and left the residence in violation of the terms of his home incarceration. About one hour later, deputies discovered Prado at truck stop in Raceland, and he was taken into custody.
Prado was transported to the Lafourche Parish Detention Center where he was booked with Simple Escape and Simple Criminal Damage to Property. His bond is set at $110,000.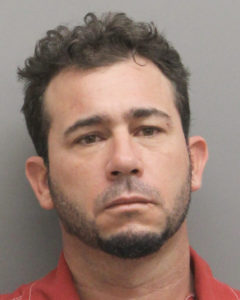 Man on Home Incarceration Arrested after Removing Ankle Bracelet and Leaving Residence