Lafourche Parish Sheriff Craig Webre announced two brothers have been arrested and charged with murder in connection to a shooting on December 15, 2018. Detectives arrested 34-year-old Kerry Alexander and 28-year-old Jerrell Alexander, both of Raceland, on Saturday night. They were each charged with two counts of First Degree Murder in the shooting deaths of 26-year-old Marcel Turner of Thibodaux and 23-year-old Jeremiah Ballard of Raceland. The Alexander brothers are also charged with Attempted First Degree Murder in the incident.
Just prior to 3 p.m. on Saturday, December 15, deputies and detectives responded to a residence in the 100 block of Market Street in Raceland in reference to a shooting. Upon arrival, deputies found Marcel Turner in the garage of the residence with what appeared to be a gunshot wound. He was pronounced dead at the scene. Investigators learned a second victim, Jeremiah Ballard, had also suffered gunshot wounds, and he had been taken to Ochsner St. Anne Hospital in Raceland. He later died at the hospital as a result of his injuries. A third man, in his 20s, was also found to be present during the incident, but he was not harmed.
Through investigation, detectives learned two suspects entered the garage wearing all black clothing and camouflage masks. They were brandishing firearms and demanded money. In a matter of seconds, one of the suspects began firing at the men, striking Turner and Ballard, while the third victim was able to escape.
During the course of the investigation, Kerry and Jerrell Alexander were developed as suspects in the shooting, and detectives learned they were in the Boutte area. Working with deputies from the St. Charles Parish Sheriff's Office, detectives located the Alexanders at a restaurant and detained them. They were found wearing all black clothing. Detectives also located a bag outside the restaurant containing two handguns and camouflage masks, and witnesses saw the Alexanders with the bag prior to entering the restaurant. Detectives believe the items recovered were used in the commission of the murders.
Kerry and Jerrell Alexander were booked into the Lafourche Parish Detention Center in Thibodaux. They are each charged with two counts of First Degree Murder and one count of Attempted First Degree Murder. Their bonds are set at $1.25 million each.
Both men have extensive criminal histories. Kerry Alexander's prior arrests include numerous charges for illegal weapons and drugs, as well as false representation, flight from an officer, and theft. Jerrell Alexander's prior arrests include attempted murder, armed robberies, simple robbery,  assaults, batteries, and other charges.
The investigation into this incident is continuing.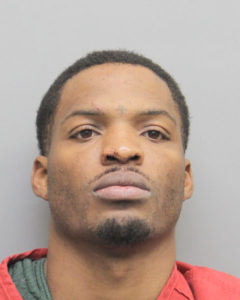 UPDATE: Two Brothers Arrested for First Degree Murder in Raceland Shooting