UPDATE: Glynn has turned himself in.
Sheriff Craig Webre announced a reward is being offered for information on the whereabouts of a Thibodaux man wanted in connection with an incident which occurred early Sunday morning. Donnie James Glynn Jr. faces several charges, including Aggravated Assault with a Firearm, following the incident.
At around 1:15 a.m. on Sunday, January 22, deputies responded to a bar on Palmisano Drive in Bayou Blue in reference to a male subject with a gun. Upon arrival, deputies learned the suspect, later identified as Glynn, had fled the scene in a sport-utility vehicle. Through investigation, deputies learned Glynn arrived outside the bar and immediately began causing a disturbance. When he was asked to leave the premises, Glynn allegedly pulled a handgun from his waistband and began threatening to kill everyone at the bar. Because Glynn was standing outside the doorway, another man was able to shut and lock the bar door and call the Sheriff's Office.
Meanwhile, the suspect's vehicle was stopped by Louisiana State Police near the intersection of LA Highway 182 and North Hollywood Road in Houma. When troopers stopped the vehicle, Glynn exited from the passenger seat and fled on foot. Troopers were unable to locate him at that time, but they did recover a loaded handgun from the vehicle that is believed to be the handgun used in the incident.
During a review of Glynn's criminal history, deputies discovered he had prior convictions for Simple Burglary and Domestic Abuse Battery. Deputies then obtained warrants for his arrest.
Donnie Glynn Jr. is also known as "D.J." and is wanted for Aggravated Assault with a Firearm, Possession of a Firearm by a Convicted Felon, and Possession of a Firearm by a Person Convicted of Domestic Abuse Battery. He also has an outstanding warrant for the City of Thibodaux due to a Violation of a Protective Order. Glynn is described as a white male, 6'0" tall, weighing around 195 pounds, with brown hair and several tattoos on his forearms, hands, neck, and face. His last known residence was on Lafourche Drive in Thibodaux.
Anyone with information on his whereabouts is asked to submit a tip anonymously through Crime Stoppers Bayou Region by phone at 1-800-743-7433 or online at www.crimestoppersbr.org. Tips can also be submitted using the P3 Tips app on your mobile device. Tipsters could be eligible for a reward of up to $1,000 in cash if the information leads to an arrest.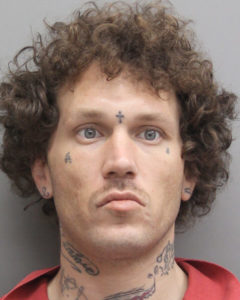 Thibodaux Man Wanted for Aggravated Assault at a Bayou Blue Bar