Lafourche Parish Sheriff Craig Webre announced the arrest of a Autumn Picou (age 32) of Houma for DWI, aggravated flight and other charges following a pursuit on Thursday.
At around 11:30 a.m. on Thursday, June 15, a white car traveling at a high rate of speed on the shoulder of the U.S. 90 exit onto LA 182 passed several cars including an unmarked deputy's car. Deputies attempted to initiate a traffic stop, but the driver of the vehicle ignored deputies and continued westbound on LA 182, driving erratically and reaching speeds of over 100 miles per hour. The driver turned onto LA 3087, and later turned onto LA 316, crossing into Terrebonne Parish where Louisiana State Police joined the pursuit. Troopers deployed spike strips at LA 316 and Company Canal Road, but the driver avoided them and continued southbound. At the intersection of LA 316 and LA 24, the driver ignored a red light, and the car struck an SUV. There were no injuries in the crash. The car did not stop at the crash, and it continued southbound onto LA 24 and then on to LA 55. The driver eventually stopped the car in the 800 block of LA 55 and jumped into Bayou Terrebonne in an attempt to flee from deputies, but she was apprehended shortly thereafter.
The driver was identified as Autumn Picou, and she was exhibiting signs that she was possibly under the under the influence of illegal narcotics. At one point after being handcuffed, she attempted to flee the scene on foot, but she was quickly apprehended. She was found to have Suboxone, oxycodone, and legend drug pills in her possession.
Picou was initially transported to the Terrebonne Criminal Justice Facility and booked as a fugitive. A blood sample was drawn to test for the presence of illegal narcotics, and the results are pending. She was later transported to the Lafourche Parish Detention Center and booked with Aggravated Flight from an Officer, DWI, Reckless Operation, Simple Escape, and Possession of Suboxone, Oxycodone, and a Legend Drug. Her bond is set at $59,000.
Sheriff Webre thanks Louisiana State Police Troop C for their assistance in this incident.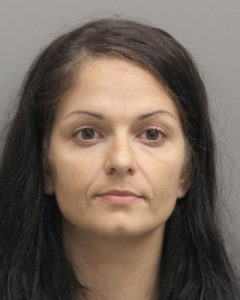 Houma Woman Arrested Following a Pursuit Thursday