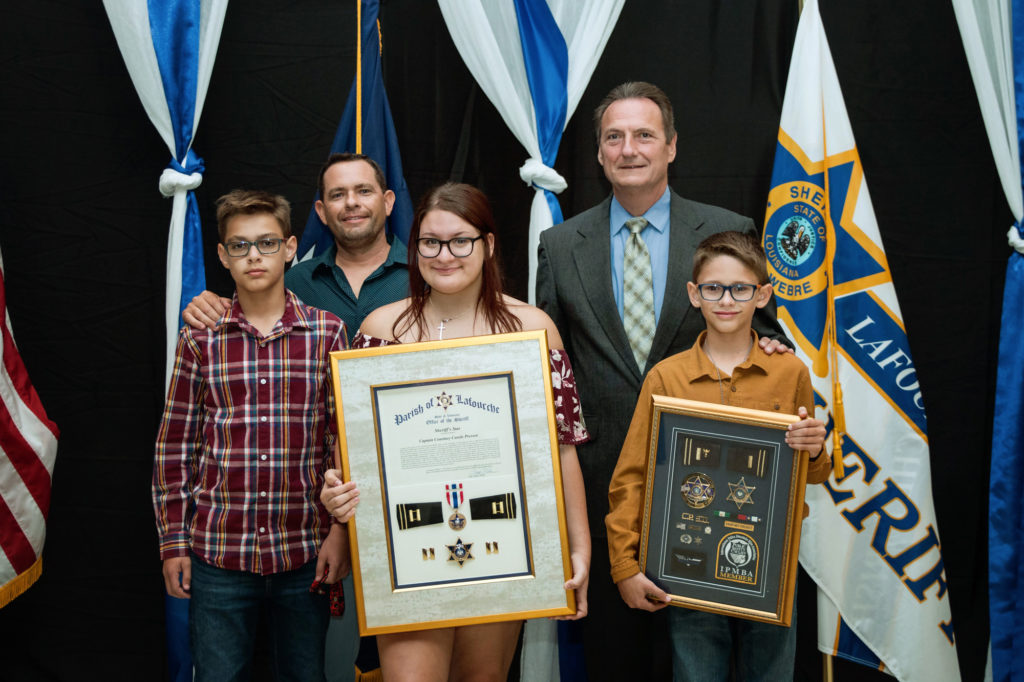 Courtney Curole Prevost, who passed away in December 2016 after a battle with leukemia, was posthumously honored by Sheriff Craig Webre as this year's recipient of the Sheriff's Star at the 2017 Lafourche Pride Awards on Saturday. Prevost's husband, Sergeant Todd Prevost, and their children accepted the award, considered one of the highest honors at the Lafourche Parish Sheriff's Office. Prevost, who was also meritoriously promoted to the rank of Captain, was one of 65 individuals honored during the awards program which took place on Saturday, September 9 at Nicholls State University.
In another significant moment of the program, several individuals and agencies were recognized for the response, investigation, and prosecution in the Lockport triple homicide which occurred in November 2012. Eight current and former detectives received distinguished service medals for their efforts in the investigation. Members of the Jefferson Parish Crime Lab were recognized for their efforts in DNA analysis. Jefferson Parish Sheriff's Office Chief Deputy Tim Scanlan made glowing remarks about the work of LPSO investigators, as well as the efforts of District Attorney Cam Morvant and his staff, who were also honored. The Lockport Volunteer Fire Department, and LPSO's Detention Division, Judicial Services Division, and Police Social Services Section were all recognized for their efforts. Several invididuals were also commended for their efforts at the scene and during the trial, including Lieutenant John Champagne, Lieutenant Josh Champagne, Deputy Mike Collason, retired detective sergeants Baron Cortopassi and Robert "Bubba Trotti, and former narcotics agents, Reserve Deputy Jay Watkins and Trooper Justin Leonard.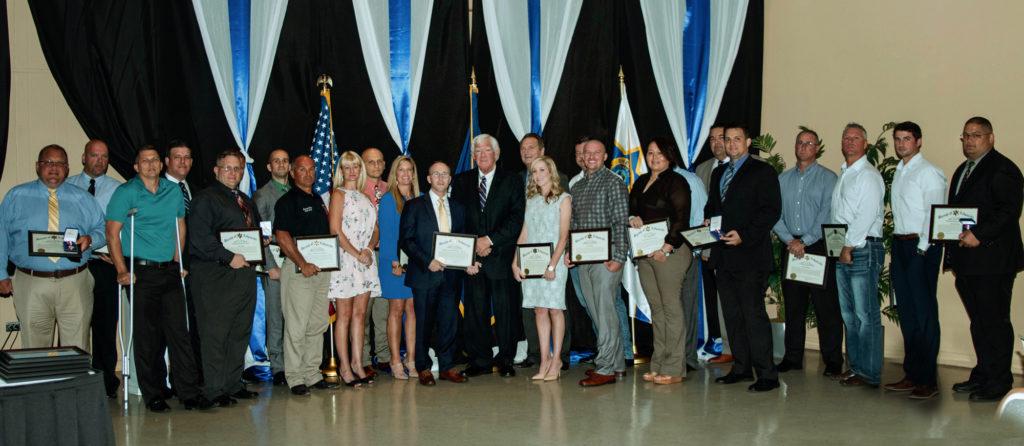 Several other individuals were honored with Distinguished Service Awards, including Captain Milfred Zeringue, Lieutenant Michael Beck, Sergeant Gabe Leblanc, Deputy Stephen Schieffler, Deputy Phillip Guidry, Gail Meyers, and former correctional officer, Evans Adams. In other presentations, Deputy Brittany Peterson was presented with the Purple Heart for being injured by a passing car during a traffic stop, and Deputy "Jac" Culver was presented a Humanitarian Award for his generous donations. Additionally, Deputy Paul Lamkins and Angela Labat were recognized as Lafourche Deputies Association Outstanding Members of the Year.
Fifteen deputies and citizens received lifesaving medals. Paul Danos (age 19) of Cut Off was recognized for saving the life of an infant, and 10-year-old Tristian Hartman received a medal for saving his father's life after he went into a diabetic coma. Grady Gaubert was also honored for saving the life of Verdie Knoblock who had collapsed in his office in February 2017. Others receiving lifesaving medals included Major Dean Savoie, Major Roy Gros, Deputies Phillip Guidry,  Walter Theriot, Moe Verdin, Lance Leblanc, Brandon Baudoin, and Delaune Boudreaux, as well as Lt. Mark Adams along with his wife, Kelli, and his son, Austin.
Ten retirees were also honored for their service. Retired Lieutenant Danny Eschete was honored for his 33 years of service, and retired Sergeant Susan Landry was recognized for 20 years of service. Also in attendance were Mike Cuneo (10 years) and Shelly Savoie (7 years). Baron Cortopassi (25 years) and his wife, Christine (21 years), were recognized, as well as Wanda Wawrose (24 years), Michael Leclair (17 years), Katherine Leblanc (15 years), and Gerald Soderstrum (10 years).
During a special presentation, Master Reserve Deputy Herb Theriot Jr. was honored with a meritorious promotion to the rank of Captain in the Reserve Division. Captain Theriot has served the Lafourche Parish Sheriff's Office for over 44 years, beginning in July 1973. He continues to teach First Aid and CPR to employees as part of annual re-certifications, and he is a member of the distinguished LPSO Honor Guard.
Individuals from Bollinger Shipyards and Raceland Ag Service were commended for their generosity to the Lafourche Parish Sheriff's Office. Field Training Officers in the Patrol Division received commendations for training a total of 60 new patrol deputies during a two-and-a-half-year span. Narcotics agents and other deputies received certificates of commendation for their work in three cases in which over $135,000 in narcotics was seized. Others receiving individual certificates of commendation included, Detective Elizabeth Leon, Deputy Jared Page, Reserve Sergeant Shawn Waguespack, Pam Guedry, Onda Templeton, and K-9 Mako.
ABOUT LAFOURCHE PRIDE:
The Lafourche Pride Awards are held annually to recognize and honor Lafourche Parish Sheriff's Office employees and local citizens for feats of bravery, exceptional work, and dedication to public service. The Lafourche Deputies Association sponsors and organizes the program through the financial support of its members who are employees of the Lafourche Parish Sheriff's Office. Sheriff Craig Webre utilizes this annual event to publicly honor employees and civilians who perform commendable work, save someone's life, or perform their job in a distinguished and commendable manner.
Sixty-five Individuals Honored at 2017 Lafourche Pride Awards