Lafourche Parish Sheriff Craig Webre announced the arrest of Houma man who led deputies on a high-speed pursuit in a stolen vehicle. Roy Leonard (age 40) faces multiple charges in the incident and is being held for authorities in Lincoln Parish regarding the stolen vehicle.
At around 12:05 a.m. on Sunday, December 31, deputies observed a vehicle traveling on LA Highway 3185 which proceeded through a four-way stop at the intersection with Talbot Avenue. Deputies then observed the vehicle make a left turn on red at St. Mary Street. Deputies attempted to initiate a traffic stop, but the driver of the vehicle, later identified as Roy Leonard, refused to stop. Leonard continued northbound on St. Mary Street at a high rate of speed before eventually making a U-turn and traveling southbound. Thibodaux Police and Louisiana State Police Troop C responded to assist. Leonard stopped briefly at the intersection of St. Mary Street and Jackson Street, and officers ordered him to step out of the vehicle. He ignored officers and continued on Jackson Street, traveling to Canal Boulevard. Leonard then continued traveling into Terrebonne Parish where deputies used spike strips to disable the tires. The vehicle eventually came to a stop on West Main Street where Leonard was taken into custody.
Deputies learned the vehicle Leonard was driving was reported stolen, and Leonard had a warrant out of Lincoln Parish in reference to the investigation. Several containers of alcoholic beverages were inside the car, and he was exhibiting signs of possible intoxication. Leonard refused to submit to a field sobriety test, but he did submit to a breathalyzer test which showed him to have a blood alcohol level of .104g%. Deputies found he was previously charged with a DWI offense in 2010.
Leonard was arrested and booked into the Lafourche Parish Detention Center in Thibodaux. He was charged with DWI (2nd Offense), Aggravated Flight from an Officer, Illegal Possession of Stolen Things, Possession of Alcoholic Beverages in a Motor Vehicle, failure to stop at a stop sign, and turning left on red. His bond is set at $113,500. He is also being held as a fugitive of Lincoln Parish.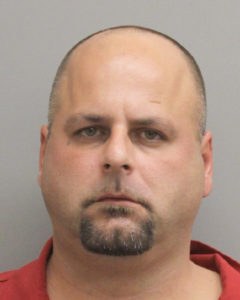 Houma Man Leads Deputies on Pursuit in Stolen Vehicle While Intoxicated