Sheriff Craig Webre announced the statewide Drive Sober or Get Pulled Over campaign is off to a great start in Lafourche Parish after deputies charged four individuals with DWI in the first three days. The campaign runs February 2-14, 2018, and it is coordinated and funded by the National Traffic Safety Administration and the Louisiana Highway Safety Commission.
The first incident occurred on Friday, February 2, at about 10:20 p.m. when deputies observed a vehicle swerve in and out of the lane of travel along LA Highway 3185 in Thibodaux. Deputies conducted a traffic stop and identified the driver as Rustin Guidry. Guidry was exhibiting signs of possible intoxication. Deputies conducted a field sobriety test on which Guidry performed poorly. A breathalyzer test showed Guidry to have a blood alcohol content of .152g%. Deputies also learned Guidry had been arrested for his first DWI offense in March 2017, and his license was still suspended. Guidry was arrested and booked into the Lafourche Parish Detention Center in Thibodaux. He was charged with DWI (2nd Offense), driving under suspension, and improper lane usage. He was released after posting $1,050 bond.
The following individuals were also charged with DWI (1st Offense) over the weekend: Laura Honeycutt (age 56) of Lockport; Vicki Luquette (age 39) of Thibodaux; and Nat Alario (age 49) of Cut Off.
Whether attending a parade or a party, or drinking at an establishment, Sheriff Craig Webre reminds citizens to NEVER drive if you have had anything to drink containing alcohol.
"Before you leave your home, you should have a designated driver or a plan to avoid driving altogether," said Sheriff Webre. "During the Carnival season, we have many more people on the roadways and many more children near the roadways, especially around parade routes. It is NEVER a good decision to drink and drive, but making that decision at this time of year could be even more catastrophic. Please consider your family and innocent bystanders who could be harmed or even killed by such an irresponsible decision which can always be avoided."
Remember that driving under the influence of narcotics, even some legal medications, can also impair your ability to drive and lead to a DWI arrest. Always read warning labels and instructions on prescription and over-the-counter medications.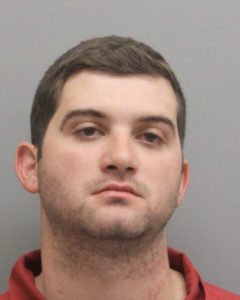 Drive Sober or Get Pulled Over Campaign Begins with Four DWI Arrests