Lafourche Parish Sheriff Craig Webre announced an arrest has been made in an investigation into a recent rash of vehicle burglaries in the central area of Lafourche Parish. Cadarren Turner, 30, of Raceland has been arrested after he was found with stolen property in his possession and linked to several burglaries.
Shortly after 3:30 a.m. on May 27, 2019, detectives observed a man, later identified as Turner, riding a bicycle along LA Highway 1 near St. Patrick Street in Raceland without proper lighting. Detectives attempted to stop Turner, but as the detective approached, Turner got off the bicycle, dropped items he was carrying, and fled on foot. Detectives lost sight of Turner and were unable to locate him. Detectives collected the items Turner left behind and determined it to have been stolen in vehicle burglaries in the area of Danos Street in Raceland.
Shortly after 1 p.m. on May 28, 2019, deputies located Turner in the Raceland area, and he once again attempted to flee on foot. This time, deputies were able to take him into custody. He was found to have suspected marijuana and drug paraphernalia in his possession, as well as a backpack which had recently been reported stolen. During questioning, Turner admitted to committing three burglaries and admitted to fleeing from the bicycle the previous day. Through further investigation, deputies and detectives found evidence linking Turner to the three burglaries and an attempted burglary.
Turner was booked into the Lafourche Parish Correctional Complex and charged with three counts of Simple Burglary, Attempted Simple Burglary, Illegal Possession of Stolen Things, two counts of Resisting an Officer, Possession of Marijuana (2nd Offense), Possession of Drug Paraphernalia, and improper bicycle lighting. He was also booked on a warrant for Contempt of Court. Bail is set at $67,520.
"In addition to processing evidence and using traditional investigative techniques, we are employing new and innovative strategies to attempt to catch these thieves," said Sheriff Webre. "We will continue to patrol neighborhoods throughout the day and night, but we also ask citizens to be on the lookout for any suspicious activity and report it to us immediately."
In nearly every recent burglary, each vehicle was left unlocked. In the rare instances forced entry was made, such as a window being broken, there was either an item of value easily seen from the outside or the vehicle was parked in a remote location.
"Despite the smash and grab tactics used in other areas, these burglars are not wasting time trying to break into a vehicle unless they see something valuable," said Sheriff Webre. "By removing all valuables from your vehicles and keeping your vehicles locked, you can avoid becoming a victim."
The investigation into these burglaries is continuing, and additional arrests could be forthcoming.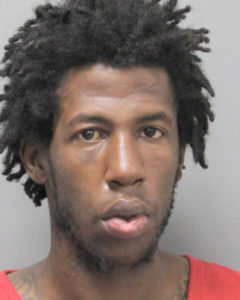 Arrest Made in Recent Rash of Vehicle Burglaries in Central Lafourche Area