Lafourche Parish Sheriff Craig Webre announced a Criminal Investigations Division supervisor has graduated from the fourth session of the National Command and Staff College. Lieutenant Benjamin Dempster was among 31 law enforcement commanders who completed the course. A graduation ceremony was held at the St. Charles Parish Sheriff's Office in Luling, Louisiana, on June 14, 2019.
The International Academy of Public Safety, Inc. founded the course in collaboration with the National Sheriffs' Association and the National Tactical Officers Association. The comprehensive 8-week course blends command and leadership programs. The program entails dozens of comprehensive modules that focus on leadership theories and practices, futures and foresight, social media, recruitment, issues in policing, intelligence-based policing, restorative policing, ethics, diversity and inclusion, and leadership in organizations by armed forces.
College President Anthony Normore, Ph.D., said students read seven books and as a class produced over 10,075 hours of blended online and classroom contact hours (325 hours each).  Each student wrote 48 essays, participated in 48 discussion boards, completed six case studies, and produced six group capstone research reports.
Sheriff Webre stated: "Lieutenant Benjamin Dempster has a clear passion for serving the public. He put himself through a grueling eight-week process of classes, studies, and lectures in addition to his normal duties. He has shown a clear dedication to becoming a better, more informed leader for our organization and this community. I congratulate him on this outstanding accomplishment."
Major Roy Gros, Criminal Department Head, and Captain Cortrell Davis, warden of the Lafourche Parish Correctional Complex, were part of the first-ever session of the National Command and Staff College in 2018.
The National Command & Staff College was founded in 2010 in a deliberate effort to develop MAGNUS Leaders through modern learning experiences that promote community safety, build mutual trust, maximize officer safety and wellness, foster star performance, and reduce liability and risks. As the leading center of excellence in professional development, the college engages in the design and delivery of meaningful curriculum and learning experiences intended to benefit law enforcement officers and correctional deputies to effectively lead their agencies.
More information can be found at www.CommandCollege.org or by calling (919) 753-1127.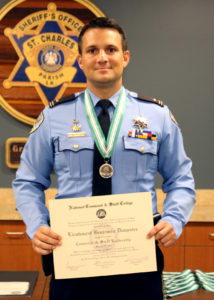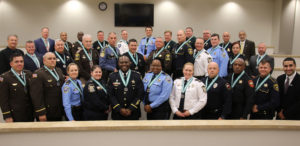 Investigations Supervisor Graduates from National Command and Staff College