Lafourche Parish Sheriff Craig Webre announced a Thibodaux man has been charged in a drive-by shooting incident that occurred in August. Kyron Bourda (age 28) of Thibodaux faces charges including assault and property damage in the incident.
Just after 10 p.m. on Tuesday, August 22, deputies received multiple calls in reference to shots having been fired in the area of the 200 block of Plymouth Street in Thibodaux. Upon arrival, deputies learned a man was outside his residence when a vehicle passed by, and one of the subjects inside the vehicle began shooting at the man. The subject fired multiple rounds from the vehicle before fleeing the area. The man at the residence was not struck during the incident, but two vehicles were damaged by gunfire.
Through investigation, detectives identified the owner of the vehicle used in the incident and learned Bourda had borrowed the vehicle during the time the incident occurred. Investigators also learned that when Bourda returned the vehicle to its owner, Bourda had an altercation with the owner and struck him several times in the face with a pistol. At that time, detectives obtained warrants for Bourda's arrest for aggravated battery. Deputies located and arrested Bourda on Thursday, August 24. Bourda was booked into the Lafourche Parish Detention Center in Thibodaux at that time on charges of Aggravated Second Degree Battery, Possession of a Firearm by a Convicted Felon, and a parole violation. Detectives questioned him about the shooting, but he denied any involvement.
Detectives continued their investigation into the shooting and were able to collect enough evidence to obtain a warrant this week. On Wednesday, September 27, Bourda, who was still in jail, was booked on additional charges of Assault by Drive-by Shooting and two counts of Aggravated Criminal Damage to Property. His bond is now set at $200,000, but he is also being held for Louisiana Probation and Parole.
Detectives say the investigation into the drive-by shooting incident is ongoing. Anyone who can identify the suspect or who may have information on this crime is asked to submit a tip anonymously through Crime Stoppers Bayou Region by phone at 1-800-743-7433 or online at www.crimestoppersbr.org. Tips can also be submitted using the P3 Tips app on your mobile device. Tipsters could be eligible for a reward of up to $1,000 in cash if the information leads to an arrest.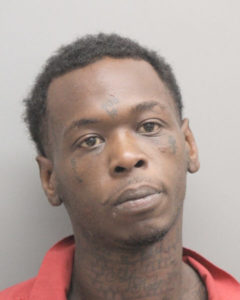 Thibodaux Man Charged in August Drive-by Shooting Incident