Lafourche Parish Sheriff Craig Webre reported the arrest of a fugitive who had warrants with bonds totaling over $400,000. Tyrone Showalter (age 35) of Galliano was arrested following a traffic stop in Golden Meadow on Tuesday, January 30.
Deputies learned Showalter, who is a convicted felon, was in the Grand Isle area on Tuesday and that he would be returning to Lafourche Parish later that day. Showalter had eight active warrants for Contempt of Court with bonds totaling over $400,000. The contempt warrants were for failure to appear in court this month on various charges including DWI, weapons charges, drug charges, and traffic violations.
Deputies obtained a description of Showalter's last known vehicle. At around 1:40 p.m., deputies observed a vehicle fitting that description traveling northbound on LA Highway 3235 in Golden Meadow. The vehicle turned onto St. Louis Street in Golden Meadow, and then onto South Bayou Drive where deputies attempted to initiate a traffic stop. After the driver stopped the vehicle, Showalter exited from the passenger side, running toward Bayou Lafourche. At that time, deputies noticed Showalter was armed with a black handgun as he jumped into the bayou. Deputies observed three bags of suspected narcotics floating near Showalter, and ordered him to come out of the bayou. Showalter proceeded to quickly rip open each of the bags in the water before moving to the bank and surrendering to deputies.
Water patrol deputies and investigators arrived, and they retrieved a loaded handgun from the bayou, as well as one of the empty bags. Deputies learned the handgun had been reported stolen out of Terrebonne Parish. Deputies also found drug paraphernalia near the passenger seat of the vehicle where Showalter was sitting. No probable cause was found on any charges for the driver, and he was released.
Showalter was arrested and transported to the Lafourche Parish Detention Center in Thibodaux. Upon arrival, deputies located over $300 in counterfeit bills on his person. He was booked on the eight contempt warrants, and he was also booked with Illegal Possession of a Stolen Firearm, Possession of a Firearm by a Convicted Felon, Obstruction of Justice, Monetary Instrument Abuse, and Possession of Drug Paraphernalia. His total bond is set at $496,400.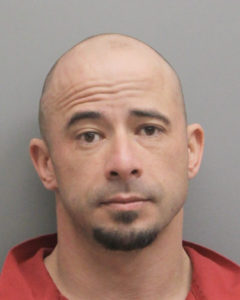 Fugitive with $400,000 in Warrants Captured in Golden Meadow