Lafourche Parish Sheriff Craig Webre announced a tip submitted to Crime Stoppers Bayou Region led to an arrested for recent vehicle burglaries in the Raceland area. Tyler Holmes, 20, of Thibodaux is charged with several counts of burglary and attempted burglary.
On October 19, 2018, detectives began investigating a string of burglaries and attempted burglaries of vehicles along Aspen Drive and Elm Drive in Raceland. A male suspect was captured on several surveillance cameras burglarizing or attempting to burglarize vehicles on those streets. In all, detectives found evidence the suspect had entered six vehicles to steal items and attempted to enter four others which were locked.
On October 23, 2018, the Lafourche Parish Sheriff's Office released surveillance video and images of the suspect to the public. Several anonymous tips were submitted to Crime Stoppers Bayou Region identifying the suspect as Tyler Holmes. After confirming the identity with multiple sources, detectives obtained a warrant for his arrest.
On Tuesday, November 13, detectives made contact with Holmes, and he was arrested. Holmes was charged with six counts of Simple Burglary and four counts of Attempted Simple Burglary. His bond is set at $80,000.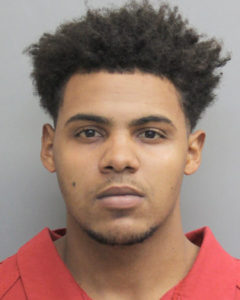 UPDATE: Crime Stoppers Tip Leads to Arrest for Raceland Vehicle Burglaries