3/6/2019 UPDATE: Jorden Danos has been found and is safe.
ORIGINAL POST:
Lafourche Parish Sheriff Craig Webre is asking for the public's help in locating 17-year-old Jorden Danos of Pointe-Aux-Chenes. Danos was last seen at his residence on February 22, 2019. He reportedly left the residence at some point between 10:30 p.m. and 11:45 p.m. that night. Danos had previously run away from home on February 10, 2019, and he was located on February 13, 2019.
Investigators believe Danos has been traveling to the South Lafourche area, as well as to Houma in Terrebonne Parish. He is described as 5'6" tall, weighing 140 pounds with dark hair. He was last seen wearing a red shirt, red pants, and white shoes. Anyone with information on his whereabouts is asked to call the Lafourche Parish Sheriff's Office at (985) 532-2808, or simply dial 9-1-1.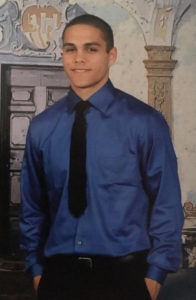 UPDATE: Pointe-Aux-Chenes Teen Remains Missing