Lafourche Parish Sheriff Craig Webre announced a Cut Off businessman facing multiple charges in an ongoing investigation is now charged with selling fake bonds. Kristian "Kris" Gaudet, 45, now faces a total of 11 counts of felony theft, as well as charges of monetary instrument abuse, money laundering, racketeering, and exploitation of the infirmed. This investigation is continuing in coordination with the FBI, Louisiana Attorney General Jeff Landry's Office, and the Fraud Division of the Louisiana Department of Insurance.
On May 30, 2019, a woman came forward with concerns about her investments after learning of Gaudet's charges. She had purchased bonds totaling $80,000. Upon contacting the holding company, the resident learned the bonds she purchased were fake. Following an investigation into the matter, detectives obtained warrants for additional charges for Gaudet for Felony Theft and Monetary Instrument Abuse.
As previously released, the investigation into Gaudet began in late 2018 when a couple became suspicious of investments made with Gaudet, owner of Kris Gaudet Insurance and Financial Services. Detectives found Gaudet provided false information on an investment company which he also owned. Detectives discovered Gaudet deposited the couple's $350,000 investment into the company account and then transferred most of it to another of his accounts. Gaudet was initially arrested in January 2019. After his arrest, eight additional victims came forward, and detectives found evidence of money laundering and racketeering. Additional charges were filed in February and March 2019.
Gaudet was booked on the new charges on June 13, 2019. In all, he is charged with 11 counts of Felony Theft, four counts of Exploitation of the Infirmed, and one count each of Racketeering, Money Laundering, and Monetary Instrument Abuse. His current bail amount is now at $433,750.
Once again, detectives are asking anyone who has made an investment with Gaudet and his company since 2012 to please come forward if your investment has not been fully returned. Anyone with insurance policies obtained through Gaudet and his company is also asked to contact their primary insurer listed on documents to ensure your account is in good standing. Anyone with any discrepancies is asked to contact the Lafourche Parish Sheriff's Office Criminal Investigations Division at (985) 532-4320.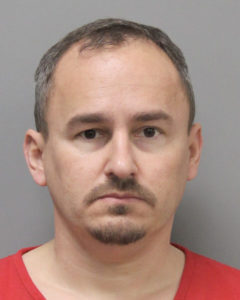 UPDATE: Cut Off Businessman Now Charged with Selling Fake Bonds