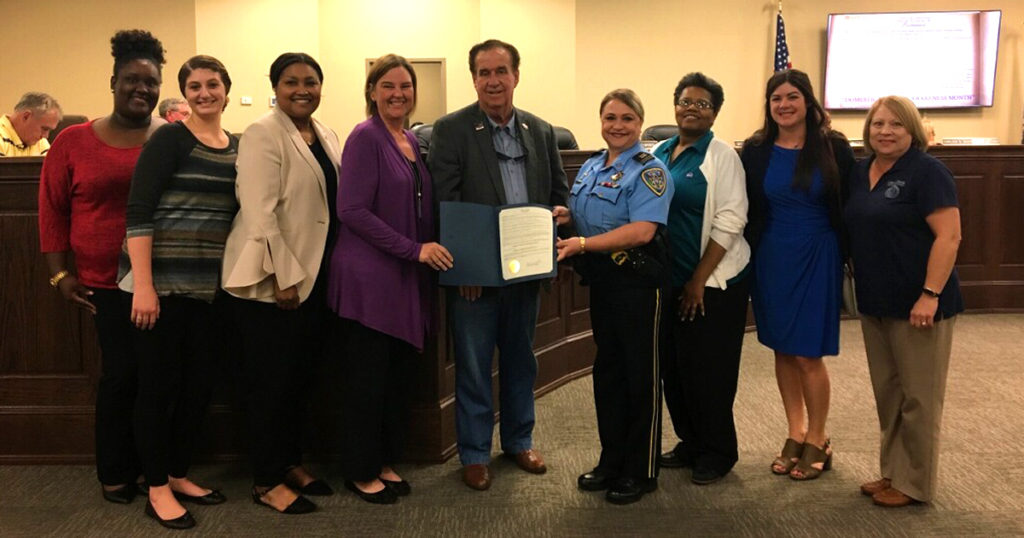 Sheriff Craig Webre announced the Lafourche Parish Sheriff's Office is promoting awareness of domestic violence throughout the month of October, nationally as Domestic Violence Awareness Month. Last week, Lafourche Parish President Jimmy Cantrelle issued a proclamation declaring the month of October as Domestic Violence Awareness Month in Lafourche Parish.
This year's theme is "Lafourche Parish: Making Waves Against Domestic Violence." The theme was born from the analogy that domestic violence is like a stone tossed into the bayou; the ripples radiate outward in circles and touch everything in their path. The effects of domestic violence are felt not only with the victims but with their family, friends, neighbors, co-workers, and advocates who serve them. In a nutshell, domestic violence impacts the entire community.
The Lafourche Parish Sheriff's Office, the Lafourche Parish District Attorney's Office, The Haven, and The P.A.C.T. Place Supervised Visitation and Monitored Exchange Center are partnering once again to host the annual Domestic Violence Candlelight Vigil. The event will take place on Thursday, October 24, 2019, at 6 p.m. at the Lafourche Central Market, located at 4484 Highway 1 in Raceland. The event is designed to remember the victims, honor and support the survivors of domestic violence, and recognize how our community can join together to create waves against domestic violence.  A domestic violence survivor will share her story of hope in an effort to inspire others to action.
"Lafourche Parish has a moral obligation to make it a priority to recognize, address, and end domestic violence," said Sheriff Craig Webre.  "Domestic violence affects us all. It impacts all aspects of our parish including community health, crime rates, the ability to participate in the workforce, child development, and family dynamics. Lafourche Parish is a better place when each citizen feels safe, secure, and free from the threat of violence. We all have a vested interest in working towards eliminating violence in all forms."
In May 2019, the Lafourche Parish Sheriff's Office was recognized as the "Ally of the Year" by the Louisiana Coalition Against Domestic Violence for several programs and initiatives, including Police Social Services and the P.A.C.T. Place Supervised Visitation and Monitored Exchange Center, as well as recent legislative efforts in the fight against domestic violence. During the presentation of the award, Julie Pellegrin, Executive Director of The Haven, praised the work of the sheriff's office. "LPSO is an unmatched ally in our work to eliminate Domestic Violence," said Pellegrin. "Sheriff Webre and his team walk the walk and talk the talk on a daily basis. Their dedication to effective intervention in domestic violence is impressive, but it's the passion they display that is inspiring and unparalleled."
For more information about the vigil, please contact The P.A.C.T. Place at (985) 532-4390.
If you or someone you know is a victim of domestic violence, call the Lafourche Parish Sheriff's Office Police Social Services at (985) 449-4477.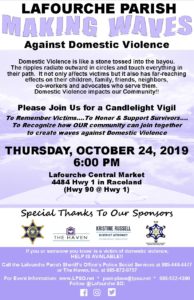 Lafourche Parish: Making Waves Against Domestic Violence